Courage, grit and determination wins!
Meet Coco – a 13 year old male Maltese, meet Louie his owner, male, old enough, Aussie with a good dose of recent Sicilian ancestry. Coco is one of those amazing dogs who really does think, act and behave as if he is human.
Canine neurophysiology tells us that the dog's brain and frontal cortex limits a dog's emotional behaviour – Coco is proof that this is plain not true. Coco is truly a battler and a fighter and has traits that make you 100% believe he could talk – but chooses to let actions speak for themselves.
Coco has been a patient at Albany Creek Veterinary Surgery since March 2003 and in that time he has battled several health issues, the common aspect of each has been the bigger the battle the greater he has risen to the challenge and recovered – amazing us vets treating him and confirming the belief that Louie and Grace his owners as to just how special and amazing he really is.
Coco "travels" or "cruises" in style – there are 2 cars parked in the garage and he knows the difference – if Louie says we go in the "cool car" – he will run out and get into the Ford Mustang, if it is to "travel" it will be the Ford Fairlane. There are no rules about if or which cars Coco travels – he is family and travels in style every time.
Coco has over the years had a few skin problems, the odd ear infection and found out lamb and muffins upset his stomach but his biggest battles were still to come.
In June 2010 Coco ruptured his cruciate ligament and following surgery and within 10 days was insisting to Louie he was up to playing ball. The dialogue was something like this:-
"What's wrong with you Louie?" he asked – Louie could only shrug his shoulders and say –
"Coco – its doctor's orders!" His reply –
"What? That guy who tries to bribe me with treats? Forget him! Throw the bloody ball!"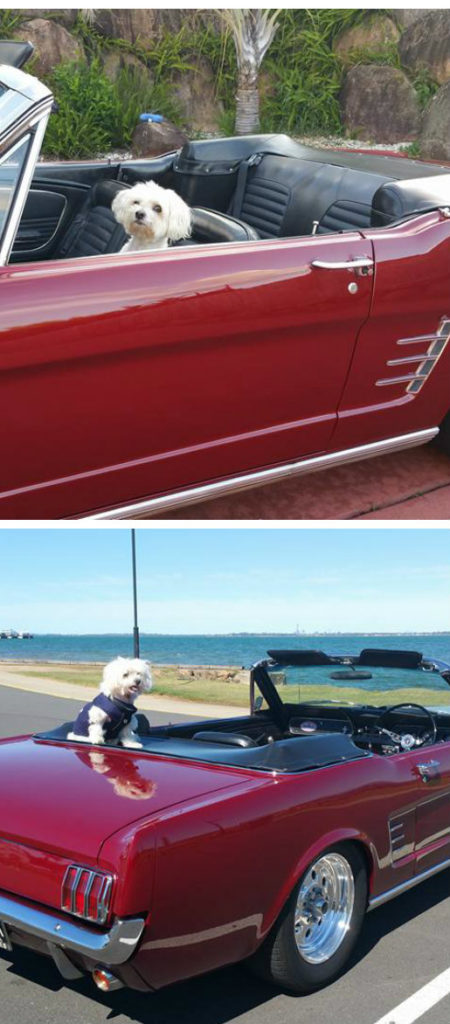 His biggest life threat came in November of 2010, just months after his knee surgery when he was struck down by a very nasty paralysis tick and it was a very close thing for a few days – but after a tracheostomy and intensive care Coco again made an incredible recover.
In 2013 Louie, Coco's owner and best mate had his own medical challenges with recovering from a hip operation – and guess what? He took on recovery with courage and just like his Coco has made an amazing recovery.
In 2014 he did his right cruciate ligament and in Louie's own words within 4 weeks was like a Ferrari.
During 2015 he started to slow and it took some special efforts from Louie and some medications to rebuild him up after some weakness in his back legs. With swimming and time Coco got back to being his old active self, maybe a bit slower but back on track and he threw his medications out saying he didn't need that stuff from the treat guy.
In July 2016, Coco started to lose the function of his legs and was diagnosed with a spinal compression in his neck. With specialist spinal surgery Coco has again amazed the vets who have treated him and after being completely off his legs was back walking 5 days later.
Coco's life story is simply one of courage, absolute commitment and loyalty between dog and owner – don't come between these 2 boys – they are not really hard but cruising Sicilian style in the Mustang you get the feeling that they will take life by the scruff and not let anything keep them down.