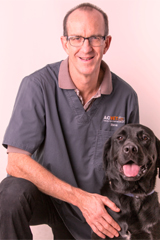 Dr Stephen Lindores – B.V.Sc
Steve is the principal and owner of Albany Creek Veterinary Surgery. Steve graduated from Queensland Vet School with Honours in 1985 and after 2 years in Biloela, Central Queensland worked in the UK for the following 14 years. Steve was a Partner in a 15 Vet Small Animal Practice south of London until returning to Australia and Albany Creek in 2002 and purchased Albany Creek Veterinary Surgery in 2004. Steve enjoys all aspects of clinical work and has an interest in knee surgery of dogs as well as Dermatology. His aim is to provide great customer service in a personalised and family friendly Practice to both pets and their owners.
---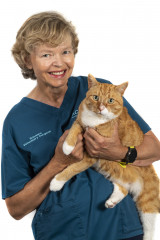 Dr Susanne Hafner – DVM PhD
Susanne graduated from Munich Vet School, Germany and completed a PhD in anaesthesia followed by 15 years General Practice in the UK. Susanne moved to Australia in 2002 and had shared her time between teaching undergraduate Veterinary students at the Qld Vet School and work at Albany Creek Veterinary Surgery. Since 2012 Susanne has put her energy into private Practice and is with us 4 days a week. Susanne enjoys all forms of surgery and medicine and loves the variety and the challenge of being a Vet in private practice.
---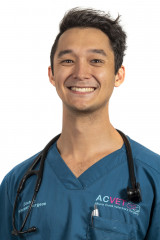 Dr Zachary Hur – BVSc
Zac joined us in 2015 and comes with a lot of enthusiasm and charm. Zac trained at Townsville Veterinary School who pride themselves on producing practical and problem solving veterinarians. Zac has fitted in exceptionally well with our team and will always give you and your pet 100% of his attention. Zac has a keen interest in surgery.
---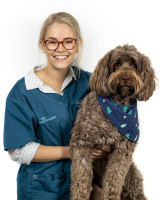 Dr Ella McCarter – BVSc Veterinary Surgeon
Ella has been a member of the vet team since 2017, after graduating with first class honours from the University of Queensland. Ella was also awarded the very prestigious University Medal for academic and personal attributes – a huge honour and recognition of her skills both academically and in her ability to care.
Ella has been part of our AC Vet team since 2012 as a vet nurse throughout her veterinary studies and eagerly joined as a full time member of the vet team upon graduation.
Ella has a keen interest in all aspects of medicine and is very passionate about providing the best care to your animal. Ella is an invaluable member of the team with energy and purpose, matched with skill, compassion and knowledge.
Ella has a fur-baby labradoodle called Henry.
---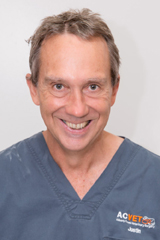 Dr Justin Kruger – B.V.Sc
Justin graduated from Queensland Vet School and has worked in General Practice for over 20 years (excluding a year riding his bicycle around Australia). Justin's vast experience has taken him from Australian mixed rural Practice, working in small animal Practice in the UK to small animal surgery repairing many broken legs. Justin has a great skill in getting fractures back together using external fixators. Justin adds his own wonderful flavour of humour which keeps us all wondering what might come out next and to watch for the next cryptic comment.
---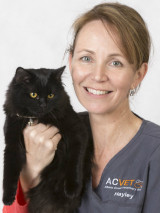 Dr Hayley McPhee – B.V.Sc
Hayley graduated from Queensland Vet School and has many years of small animal Practice experience. Hayley joined us in 2014 and can offer a wealth of experience from her years in Practice. Hayley takes great pride in her veterinary work and will always ensure that your pet will be provided with great care and attention. Hayley loves to ensure she follows up on her patients' progress and has a special interest in helping you with training and Good Behaviour!
---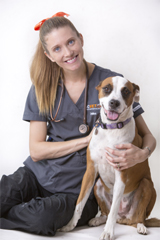 Dr Dallas Barker – BVSc
Dallas graduated from the University of Queensland and spent 2 years honing her vet skills in Charleville, Western Queensland. Dallas then spent 3 years in Perth, Western Australia in small animal practice before returning to Queensland to join us at Albany Creek. Dallas has enthusiasm matched equally with her care and compassion for all her patients. Dallas currently is enrolled in post-graduate medicine studies. Her passion is to develop and extend her medicine care but also her general surgery. You can be sure Dallas's energy will leave you comfortable about the care of your pet.
---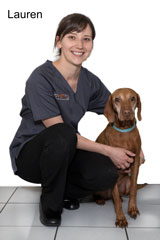 Dr Lauren Miller – BVSc Veterinary Surgeon
Lauren has a number of years' experience in busy small animal practice before joining us in October 2017. Lauren's first memory of wanting to be a vet was when she found an injured rabbit and became compassionately intrigued as to how she fix it and what that involve.
Lauren realised her dream and has taken that compassionate personality after achieving her Veterinary degree at Townsville. Lauren has a keen interest in medicine and has quickly become a popular member of our team. Lauren will always pay attention to detail and you will always get a naturally caring and compassionate vet who can add to that a very good knowledge of veterinary medicine.
Lauren is the proud owner of Marco, a Norwegian Elkhound X Labrador and her cat Brax. We welcome Lauren and count ourselves lucky to have her working with our team with service and
compassionate care as our goals.
---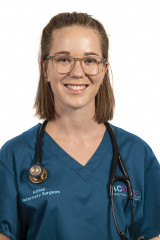 Dr Ashlee Bernstone – BVSc (Hons1)
Ashlee joined us in early 2021 and has already earnt her place as a valuable member of the Vet team. She spent a number of weeks at ACVets during her final year of university and joined us after graduating with First Class Honours from the University of Queensland.
Ashlee loves the excitement of general practice and enjoys building close relationships with both clients and pets alike. She enjoys the challenge of managing unique medical cases (which always seem to find their way to her!).
Outside of work hours, Ashlee prefers to spend her time in the great outdoors finding new places to explore with her Labrador X Border Collie, 'Jed'. They can be seen at the beach, on the trail or even on top of a mountain!
---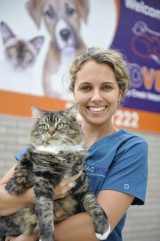 Dr Karla de Klerk – BVSc (Hons)
Dr Karla de Klerk BVSC Hons
Karla grew up in Brisbane and graduated with honours from University of Qld. After doing a year internship as an equine specialists at the teaching hospital at University of Queensland Karla moved to Sydney gaining experience in small animal medicine and surgery.
After a few years of NSW Karla moved back to family and Qld and joined the AC vet team in June 2021 and has become an integral part and much appreciated member of the team.
Karla enjoys building strong client relationships and educating owners about preventative care to keep our younger patients healthy, formulating personalised plans to promote quality of life in our older patients, and seeing patients leave the clinic healthier and happier than when they arrived!
When not at work, you can find Karla gardening, riding her horse, spending time with her family or bushwalking.
---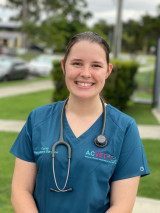 Dr Casey Miles BVSc (Hons) – BVSc (Hons)
Dr Casey Miles BVSc (Hons)
Casey always dreamed of being a vet and made that a reality when she graduated from the University of Queensland with honours.
The aspects of veterinary medicine that she loves the most, is being able to care for someone's pet for their entire life, so that she can support pets and owners through all the highs and lows life offers.
Casey prides herself on excellent service and patient care. She also has a keen interest in surgery.
Casey is Brisbane born and bred, comes from a large family with 7 Aunts, Uncles and 20+ cousins. She has a kelpie named Titan and a ginger tabby cat named Murby.
On her days off she likes to spend time with family and friends as well as taking her furry comrades on adventures.
---