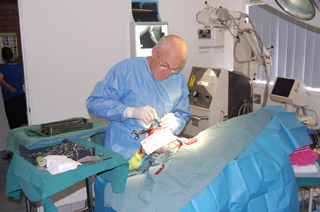 We are fully equipped and staffed to deal with emergencies and please remember we will see your pet in case of an emergency as a matter of urgency and given a priority to be seen.
Appointments for emergencies are not necessary or possible in many circumstances but if there is the possibility of a phone call before arriving this will help us plan and prepare for the arrival of your pet.
Out of normal opening hours after 6.00pm and before 7.30am we have an after-hours emergency answering service. By ringing 3264 1222 you will get a message with an instant option to go direct through to the emergency service and they will be able to help or direct you as necessary. It may be necessary to direct you to an emergency after-hours Centre.
If it is possible for less urgent cases we might be able to get you in touch with a vet. If that is not possible at the time then the other possibility is to speak with trained emergency and critical care staff at one of the emergency service providers.
If you have a less critical patient then it can be dropped at the surgery after 7.30am for a nurse admission and a vet will examine your pet when they arrive at 8.30am.
Emergency 24 Hour Vet Care Centres
Brisbane Veterinary Emergency & Critical Care Service
24 Hour, 7 Day Emergency Vet
Veterinary Surgeons – Albany Creek, QLD
Cnr Keong and Old Northern Rds, Albany Creek QLD 4035, Australia
(07) 3264 9400
www.bveccs.com.au
Pet Emergency
24 Hour, 7 Day Emergency Vet
Veterinary Surgeons – Stafford Heights, QLD
263 Appleby Rd, Stafford Heights QLD 4053, Australia
(07) 3359 5333
www.petemergency.com.au
---