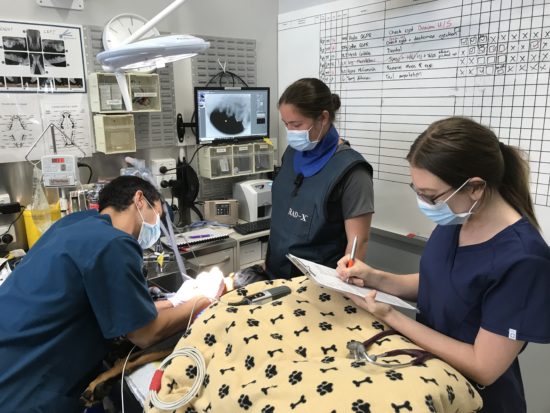 Albany Creek Vet Surgery offers comprehensive and professional veterinary care delivered by a team of friendly and very experienced vets, nurses and support staff.
We enjoy working as a team to ensure you get the best from your vet and that your pet will get not only an opinion from your treating vet, but additional input and help from their colleagues. In addition to professional care we can offer the added benefits of extensive modern in-house equipment to give you the comfort that we have a well-equipped practice to diagnose and treat your pet.
We also have the facility of visiting surgical and cardiology specialists which means you and your pet will not need to travel long distances to be seen for specialist conditions.
Life Care for All Pets!
At Albany Creek Vets our services include:
Puppy and kitten check up with a free guide to your new pet
Vaccinations – a full range of preventative care for puppies and kittens
Preventative adult pet healthcare – in addition to annual vaccines we offer a full range of parasite prevention products, including intestinal wormers and heartworm prevention as well as flea and tick prevention
Medical Services including consultations for all sick and injured pets including visiting specialist in cardiology for heart ultrasound and ECGs
Surgery – A fully equipped surgical theatre for a full range of operations as well as visiting specialists for more complex procedures.
Desexings (castrations and spays) & Microchipping of all family pets
Dentistry – we have modern dental equipment to ensure we can provide excellent dental care and a full range of services including Guinea Pigs
Pathology and In-house Blood testing for fast in-house blood testing results and especially on weekend or evenings we can have results within one hour of your pet coming to our surgery. We also have 2 in-house microscopes and in-house facilities to check blood glucose, urine testing and cytology.
X-rays and Ultrasound – We have in-house X-ray facilities as well as modern ultrasound for diagnosis of pregnancy and other conditions.
Anaesthetics – patients requiring anaesthetics will be monitored by experienced and trained nursing staff who will also benefit from having new technology to measure oxygen percentage in the blood, automatic monitoring of heart rate and breathing rate as well as alarms
Puppy Preschool – we have popular classes which are weekly for 4 weeks which are wonderful for your new puppy's socialisation as well as information on caring. The puppy graduates (they all graduate) will remember the fun times of puppy preschool. A photographer comes and has a photo service of your new puppy
Diets and Veterinary merchandise – we stock a comprehensive range of quality foods (all with 100% satisfaction guaranteed or your money back) along with advice on all feeding requirements and pet care products including leads, collars, nail clippers, jackets and muzzles. You can purchase products from our clinic as well as on our online shop.
House calls – we can attend your own home for a house visit. Please keep in mind we need some notice and emergencies are best treated at the surgery with full facilities and staff on hand.
Reminders – we send regular pet healthcare reminders to our clients.
Emergencies – we can offer urgent care and attention to pets during the day and if possible a phone call will know we are expecting an emergency. After-hours ring 3264 1222 to speak with our after-hours service. We may need to direct you to a specialist after-hours facility.
Suburbs We Service
We provide veterinary services for pets and their owners throughout the Moreton Bay and Brisbane regions of Queensland, including Albany Creek, Eatons Hill, Aspley, Bridgeman Downs, Cashmere, Warner, Joyner, Samford, Samford Village, McDowall, Strathpine, Arana Hills, Bald Hills, Bracken Ridge, Bray Park, Carseldine, Chermside, Dakabin, Deagon, Everton Park, Everton Hills, Ferny Grove, Ferny Hills, Joyner, Kallangur, Mitchelton, Morayfield, Murrumba Downs, Petrie, Pine Rivers, Sandgate, Stafford, Taigum, Whiteside, Dayboro, Closeburn, Bunya and Bunya Riverside and Kurwogbah.