Toby really, really loves life, he loves attention and his owners Damien and Margaret are his best friends.
Toby is a Border Collie dog and celebrated his 7th birthday on the 1st September 2016; nearly 7 years ago Damien and Margaret were not sure about another dog but made the a visit to see some puppies and sure enough; as it always happens; Toby stood out and it was love at first sight for Margaret (in her own words).
Toby has been a wonderful friend and companion over the last 7 years but on an evening in July 2016 when he was busy being happy he yelped and could not use his left hind leg.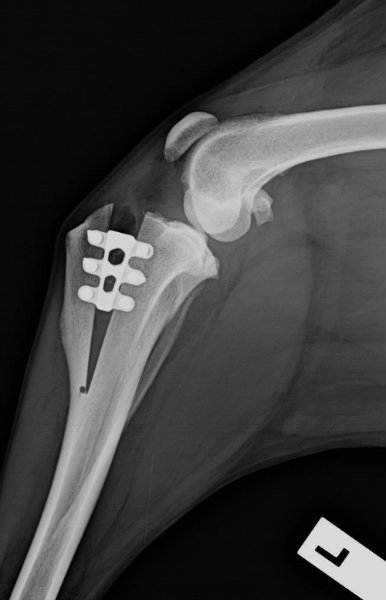 After a visit to see us at Albany Creek Veterinary Surgery we had to break the news to Damien and Margaret that he had ruptured his cruciate ligament. Unfortunately it was a complete rupture and after a week we knew Toby would require surgery to get him back to his happy, happy self. Damien and Margaret agreed that they wanted their old Toby back.
Cruciate injuries are the most common orthopaedic condition we see and they occur in dogs of any age and size. Due to the design of a dog's leg the cruciate ligament (which controls the stability of the knee) works out every single step and commonly will degenerate and fail. Humans more commonly damage their cruciate in a single significant traumatic event – dogs cruciate ligaments tend to fail due a progressive degeneration of the ligament over time.
When the cruciate fails it causes pain whenever the dog uses the leg – effectively it is a weight bearing pain and often pet owners can move the leg up and down without discomfort. We always say that the dogs tell us if they need an operation or not by the level of comfort after pain relief and rest.
We perform regular cruciate operations for all dog sizes at Albany Creek Veterinary Surgery with smaller breed dogs we will usually perform a ligament replacement implant that replaces the ligament, however bigger dogs will often be better suited to a more complex procedure requiring osteotomies of the tibia (cutting of the bone).
Over time there have been many adaptations of this surgery and have until now relied on visiting specialists to perform this surgery. Over the last few years there has been more adaptations and we now are able to offer a non-specialist option giving similar results with less complexity and significantly reduced costs.
The new Tibial Tuberosity (TTA) procedure being offered adjusts the angles and instead of replacing the cruciate ligament we effectively make it redundant and remove the forces in the joint that cause the pain. By inserting a 3D printer produced highest grade titanium implant the angle of the knee and the patella ligament is changed to right angles eliminating the tibial thrust effect of weight bearing.
Margaret, Damien and Toby made the decision to choose the TTA procedure which was performed by Dr Steve Lindores and Dr Zachary Hur in August 2016, just before Toby's 7th birthday.
At 5 weeks post op, Toby was doing very well, feeling his old happy, happy self and Damien and Margaret found themselves busy trying to contain his returned enthusiasm for life!