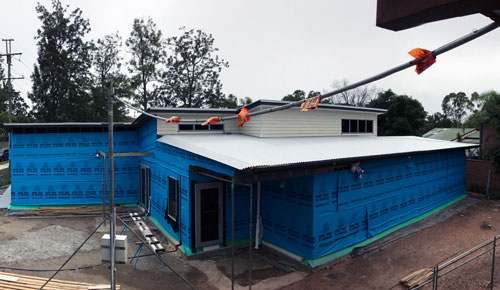 The new building is progressing very fast and the walls are up, the roof is on and all starting to take shape.
The new building will expand us from our current 220 square metres to 300 square metres.
We will have an extra waiting area room which will also be available as a quiet waiting area for nervous dogs and overwhelmed pussy cats.
We will have a dedicated theatre for surgery, pathology room for blood machines and microscopes for all the lab work, X-ray room, ultrasound room, dedicated and separate dog and cat wards all with ducted cooling for comfort. For our staff we will have a separate kitchen, study, staff toilet and relax areas available. There is an isolation ward for those very sick patients.
There will be an outside secure exercise area for our patients. There will be new space for grooming and very importantly grooming will now be on ground level! (No more stairs.)
We will have TV for viewing in the waiting room and a full client toilet directly accessible from the waiting room.